Do you find it so hard to read the Bible and understand what it says?
Try our easy to study Bible app! Free and very useful!
There are several reasons that sometimes make the Holy Bible hard to read and study. First, the Bible was created several centuries ago in a very different culture.
Second, the Bible was composed of different types of literature: history, law, poetry, prophecy, letters, and songs.
Third, the Bible was written by many authors over many years in many places.
Understanding the Bible can sometimes be difficult, but with this study Bible and God's help, it is possible!
Download this new audio and study Bible for free!
We offer you an updated version of the Holy King James Bible with commentaries to help you in your study and understanding of the Bible.
Don't miss the opportunity to have on your phone the best commentary Bible to study the Word.
Features include:
– Free downloading
– Offline use
– Audio Bible
– Research by keyword
– Bookmark Verses
– Add notes
– Make a list of favorites
– Share verses on social networks
– Change the font size of the text
– Night mode to protect your eyes
– The app remembers the last verse read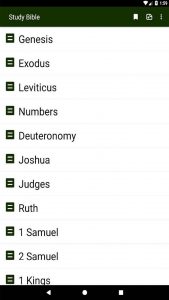 Enjoy verse-by-verse commentaries, notes, and explanations written by Cyrus I. Scofield, American theologian, minister, and writer.
It is now very easy to study the Word!
Choose a book from the 66 books of the Bible and begin to study the Word:
Old Testament:
Genesis, Exodus, Leviticus, Numbers, Deuteronomy, Joshua, Judges, Ruth, 1 Samuel, 2 Samuel, 1 Kings, 2 Kings, 1 Chronicles, 2 Chronicles, Ezra, Nehemiah, Esther, Job, Psalms, Proverbs, Ecclesiastes, Song of Solomon, Isaiah, Jeremiah, Lamentations, Ezekiel, Daniel, Hosea, Joel, Amos, Obadiah, Jonah, Micah, Nahum, Habakkuk, Zephaniah, Haggai, Zechariah, Malachi.
New Testament:
Matthew, Mark, Luke, John, Acts, Romans, 1 Corinthians, 2 Corinthians, Galatians, Ephesians, Philippians, Colossians, 1 Thessalonians, 2 Thessalonians, 1 Timothy, 2 Timothy, Titus, Philemon, Hebrews, James, 1 Peter, 2 Peter, 1 John, 2 John, 3 John, Jude, Revelation.