Welcome to this new app that offers the Catholic Version of the Bible.
Download Catholic Public Domain Version of the Bible (CPDV), published in 2009.
Enjoy this translation of the Bible in contemporary language. The CPDV is a verse-by-verse translation of the Latin Vulgate, made using the Challoner Douay Rheims version as a guide.
It is an ideal Bible to understand the word. Download this easy reading bible but faithful to the original texts in Hebrew, Aramaic, and Greek.
Furthermore, it is an audio version of the Catholic Bible. If for any reason, you cannot read, you will be able to hear the word of God every day on your phone.
Listening to the Bible is a new and different way to enjoy the holy Word. Try it!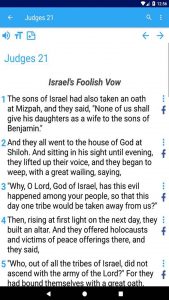 Features of the app:
1-Free downloading
2-Audio version of the Bible
3-It works offline (does not need any internet connection)
4-Ability to mark and save verses in a bookmark list for later reference
5-Add your own study notes
6-The app remembers the last paragraph read
7-Increase or decrease the text letter as it is more comfortable for you
8-Use the night mode function to darken the screen and rest your eyesight when reading in a dimly lit environment
9-Find what you want by word in verses and chapters
10-Send verses by SMS, email, or share on Facebook or Twitter
Download this precise, clear and modern Bible, ideal for devotional reading.
Do not hesitate and download now the updated and modern version of the Catholic Bible to read and listen comfortably on your phone.
Choose your favorite among the 66 books and the hundreds of chapters and verses:
Old Testament: Genesis, Exodus, Leviticus, Numbers, Deuteronomy, Joshua, Judges, Ruth, 1 Samuel, 2 Samuel, 1 Kings, 2 Kings, 1 Chronicles, 2 Chronicles, Ezra, Nehemiah, Tobit, Judith, Esther, 1 Maccabees, 2 Maccabees, Job, Psalms, Proverbs, Ecclesiastes, Song of Solomon, Wisdom, Sirach, Isaiah, Jeremiah, Lamentations, Baruch, Ezekiel, Daniel, Hosea, Joel, Amos, Obadiah, Jonah, Micah, Nahum, Habakkuk, Zephaniah, Haggai, Zechariah, Malachi
New Testament: Matthew, Mark, Luke, John, Acts, Romans, 1 Corinthians, 2 Corinthians, Galatians, Ephesians, Philippians, Colossians, 1 Thessalonians, 2 Thessalonians, 1 Timothy, 2 Timothy, Titus, Philemon, Hebrews, James, 1 Peter, 2 Peter, 1 John, 2 John, 3 John, Jude, Revelation.