We recommend this Bible to everyone!
Enjoy the classical version of the Bible, the Holy King James, with Expositor's Notes placed directly after the verse.
This Bible makes you want to read it because you can understand it!
This Bible along with various commentaries is the best bible you will ever read due to the commentary information that accompanies the KJV!
The author of the Expositor's Study Bible was Jimmy Lee Swaggart, an American Pentecostal evangelist, Christian music singer, and pastor.
The perfect study Bible that will make study easier!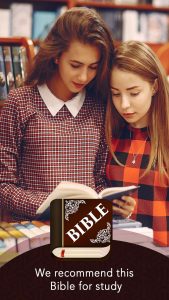 Experience the new features of the app:
1- Free downloading
2- Audio version of the Bible: hear the God's Word comfortably on your phone
3- Compatible for Android Phones and Tablets
4- Old and New Testament: complete King James Version with Expositor's Notes
5- Save any verse so you can jump right back to it later
6- Add notes
7- You can send verses to your friends as well as share on social networks
8- Increase and decrease the size font of the text
9- Switch to Night Mode to make the Bible readable and less stressful for your eyes
10- Offline Bible: readable at any time when NOT connected to Wi-Fi!
The Bible is divided into two sections: The Old and the New Testament.
The word "Testament" is an old English word that means "covenant"
The Old Testament consists of 39 books and the New Testament consists of 27 books.
Choose a book from the list above to start reading or listening!
Genesis, Exodus, Leviticus, Numbers, Deuteronomy, Joshua, Judges, Ruth, 1 Samuel, 2 Samuel, 1 Kings, 2 Kings, 1 Chronicles, 2 Chronicles, Ezra, Nehemiah, Esther, Job, Psalms, Proverbs, Ecclesiastes, Song of Solomon, Isaiah, Jeremiah, Lamentations, Ezekiel, Daniel, Hosea, Joel, Amos, Obadiah, Jonah, Micah, Nahum, Habakkuk, Zephaniah, Haggai, Zechariah, Malachi, Matthew, Mark, Luke, John, Acts, Romans, 1 Corinthians, 2 Corinthians, Galatians, Ephesians, Philippians, Colossians, 1 Thessalonians, 2 Thessalonians, 1 Timothy, 2 Timothy, Titus, Philemon, Hebrews, James, 1 Peter, 2 Peter, 1 John, 2 John, 3 John, Jude, Revelation.