Are you a serious reader of the Bible?
Now you can join the growing number of Christians using a Bible app to read the Holy Word. Download this new audio and study Bible for free.
Don't miss the opportunity to have on your phone the best commentary Bible to study the Word.
We offer the Holy King James Version with commentaries of the British Pastor and theologian Adam Clarke.
Immerse yourself in the Holy Word of God with this useful Bible study app that offers an expanding set of tools and features:
-Free downloading
-Offline use
-Audio Bible
-Research by keyword
-Bookmark verses
-Add notes
-Make a list of favorites
-Share verses on social networks
-Change the font size of the text
-Night mode to protect your eyes
-The app remembers the last verse read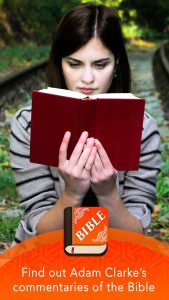 Adam Clarke (1760 – 1832) was a Methodist theologian and Biblical scholar who wrote a commentary on the Bible. It was considered the most comprehensive commentary on the Bible ever prepared by one man. Adam Clarke's commentary helps to study the King James Version, sometimes considered a bit difficult to understand because of some antiquated words or words that have changed meanings or have dropped entirely out of common usage, so that you really need some help to understand them.
Enjoy verse-by-verse commentaries, notes and explanations. It is now very easy to study the Word!
Choose a book from the 66 books of the Bible:
Old Testament:
Genesis, Exodus, Leviticus, Numbers, Deuteronomy, Joshua, Judges, Ruth, 1 Samuel, 2 Samuel, 1 Kings, 2 Kings, 1 Chronicles, 2 Chronicles, Ezra, Nehemiah, Esther, Job, Psalms, Proverbs, Ecclesiastes, Song of Solomon, Isaiah, Jeremiah, Lamentations, Ezekiel, Daniel, Hosea, Joel, Amos, Obadiah, Jonah, Micah, Nahum, Habakkuk, Zephaniah, Haggai, Zechariah, Malachi.
New Testament:
Matthew, Mark, Luke, John, Acts, Romans, 1 Corinthians, 2 Corinthians, Galatians, Ephesians, Philippians, Colossians, 1 Thessalonians, 2 Thessalonians, 1 Timothy, 2 Timothy, Titus, Philemon, Hebrews, James, 1 Peter, 2 Peter, 1 John, 2 John, 3 John, Jude, Revelation.